If you're planning a trip to Bangkok there's a good chance you're thinking taking a day trip to the former capital, Ayutthaya. And you SHOULD visit Ayutthaya – but not on a day trip if you ask me! Here's why it's worth taking a night or two in the small city 80 km north of Bangkok.
For 417 years – from 1350-1767 – Ayutthaya was the capital of Thailand founded by King Ramathibodi I and  destroyed by the Burmese Army.
The city center of Ayutthaya is on a small island surrounded by the mighty Chao Phraya we all know from Bangkok. The Historic City of Ayutthaya was declared a UNESCO world heritage site in 1991. Most of the temples are within this small island – but not all of them are UNESCO sites.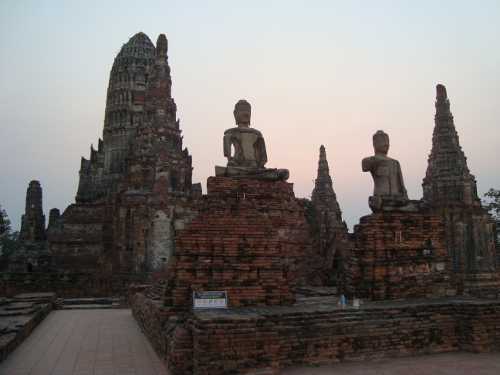 There are A LOT of temples in Ayutthaya. Most of them are ruins but that doesn't make them any less interesting. One could easily spend several days just biking from temple ruin to temple ruin – however most people have other things on their list as well once they're in Thailand.
Rent a bike
We stayed at the lovely little hotel, Iudia. It's a little out of the city centre (although you can't really speak of a "city centre" in Ayutthaya). The rooms are nice and the hotel has a small pool which is perfect after a long day of biking around looking at temples.
Which is exactly what I suggest you do in Ayutthaya. Bike around the city – looking a temple (ruins).. Iudia (and most other hotels) have free bikes or you can rent them around the city. It's an excellent way of getting around and if you arrive at a temple at the same time as three big buses it's easy just to bike to another temple – or have an ice-cream break. Being on a bike offers so much more freedom and you can plan your route as you go along.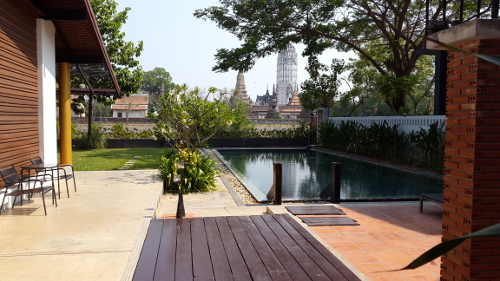 Some of the temples have a small entrance fee and as always; remember to dress properly before entering a religious area.
The temples
Wat Phra Si Sanphet is the most historically important one of of all the temples – and it's beautiful! It's also known as the King's Temple and is easy to recognize with its three large chedis and several small ones around as well.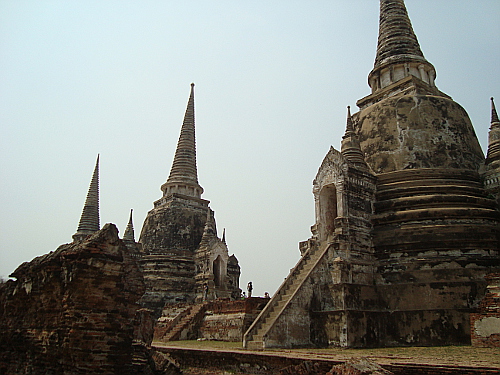 At Wat Lokayasutharam you'll find The Reclining Buddha with the peaceful smile.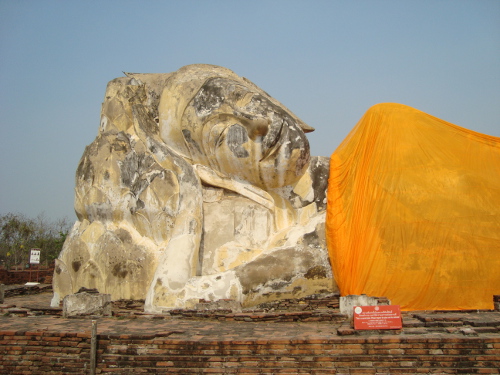 Wat Na Phramen is one of the few temples that for some reason weren't destroyed by the Burmese and it is an active monastery. There's a golden Buddha inside which is definitely worth a visit.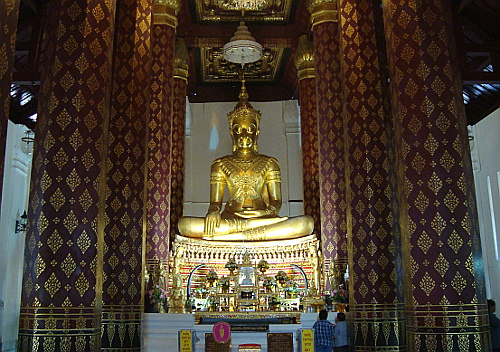 Wat Mahatat is a must. This is the temple where you'll find the famous Buddha head in the tree.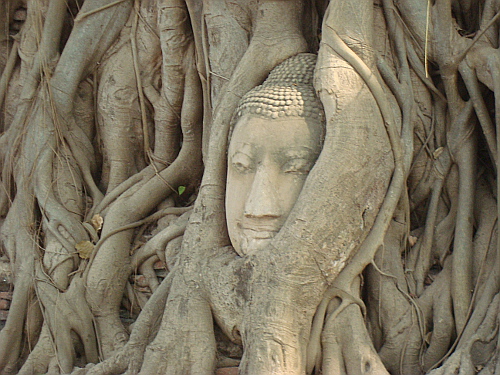 Wat Yai Chai Mongkol is at the eastern outskirts. Unfortunately we didn't have time to go here but it's on the list for the next visit :-). Here you'll find one big chedi surrounded by four smaller ones.
Wat Suwan Dararam is the only temple in Ayutthaya still inhabited by monks. The wall paintings are quite extraordinary (but difficult to get a decent shot of… ;-))!
Wat Ratchaburana was – along with Wat Chau Wattanarm – my favourite. Here you can clearly see the Khmer influence with a large "prang". It was closed for restoration when we were there but I believe you are able to climb the inside of the prang and get some nice views of the area.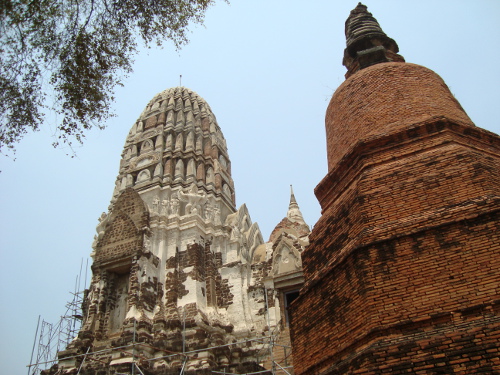 Wat Chai Wattanarm. This temple is on the other side of the river and I highly recommend you do a boat trip around the island one late afternoon. It's a great way to see things from the river. A few interesting stops on the way are made and everything is timed perfectly so you end up at Wat Chai Wattanarm at sunset. This is without doubt the best place to be in Ayutthaya at sunset! It's stunning!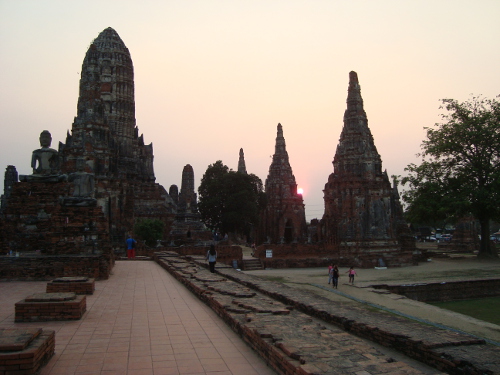 Make time for ice cream
I know it doesn't sound like much. Eight temples in two days. There are many – MANY – more temples worth checking out but with time for lunch, ice creams and "roti sai mai" (try it – it's sweet and hard to describe but it's a must try in Ayutthaya!) this was all we managed in two days.
And the best part of it all? When all the other guests go back to Bangkok in the evening you have the place pretty much to yourself. Please note that this IS a small city and there's not much to do apart from visiting temples.  However it is a pleasure to see the quite side of Ayutthaya after a long day with hordes of buses and visitors.